I have some profitable news for all current and would-be Tron buyers / investors!  You may be aware of Tron's recent acquisition of the BitTorrent file sharing website / protocol in 2017…
Tron is now in the process of improving the BitTorrent service by integrating with blockchain services.  They have created a TRC-10 token called the BitTorrent token which runs on the Tron blockchain.  It will have the ticker symbol BTT on the crypto exchanges. So why is this such great news for Tron / TRX fans?  As a reward for HODL'ing your Tron through the pre-scheduled airdrop dates, you will receive BTT token at a 1:1 ratio over the course of seven years [you have to participate in all the airdrops to experience a true 1:1 distribution.]  This means you will get one BTT token for every TRX token that you hold in your wallet. Some major exchanges will most likely support the airdrop, I have seen a couple announce support on Twitter [like Binance, who is partnered with Tron]…  but the best way to ensure that you get your BTT tokens, is to put your Tron in a supported wallet…
[ATTENTION: Still need to get setup with a Tron wallet?  Look out for my next blog post coming soon about the best and most secure mobile wallet for Tron!  I had recommended TronWatch in one of my last blog posts, but it turns out that development support is being dropped for the TronWatch wallet.  The wallet's development has shifted their focus to the TronWatch Market, which will be a Decentralized Exchange that launches sometime in 2019.  This basically means that the TronWatch wallet as it stands is no longer going to be updated and I can no longer recommend using it.]
The first BTT airdrop is scheduled for February 11th, 2019, and will be followed by six more airdrops through 2025 that will reward long term TRX holders with BitTorrent tokens.
Check out this image for the complete BTT Airdrop schedule & details…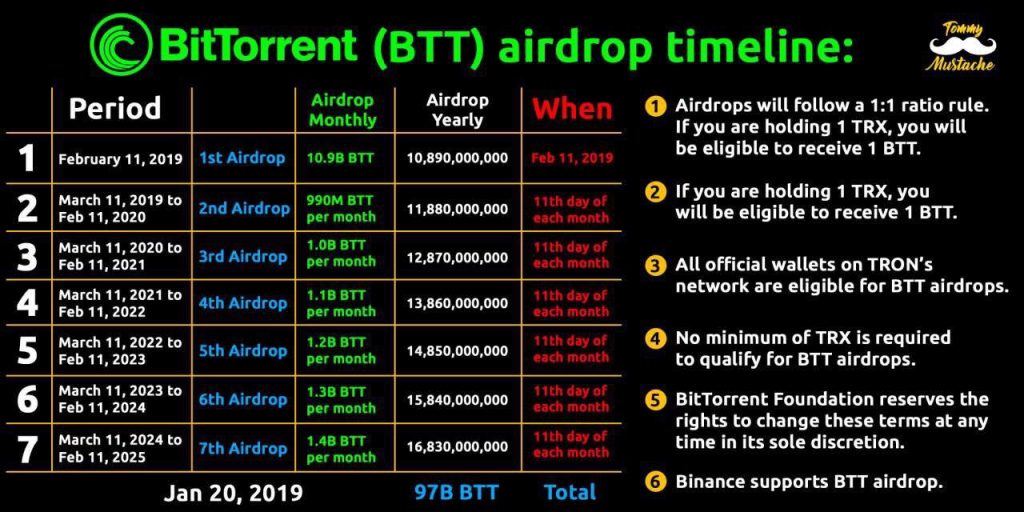 The BTT token is created and runs on the Tron blockchain as a TRC-10 standard token.  This is happening just like many notable token projects that have risen from the Ethereum blockchain.  And even better yet, the BitTorrent token already has a real world use case in development, in being used to evolve the services of BitTorrent and further decentralize the internet and how content is delivered to users!
So now that you know how it all works… you can go get your Tron, secure it in your wallet and experience the benefit of being an early adopter of the BitTorrent token…  If you found massive value in it and appreciated the information contained, please be kind and share it with your friends on social media! [checkout the official
BitTorrent Foundation blog post
for even more details about the airdrops]
Keep your eye out for my next FREE Crypto Training post coming soon, where I will teach you how to use one of Tron's most popular Decentralized Exchanges to trade 'Tron Tokens' for profit.
P.S. And by the way, our Crypto Mastermind Group has already been onto Tron since it first launched back in 2017. And this is just one of many projects we have capitalized and had major and growing profitability with… And you never know what the future will bring us, as every day brings new opportunities in this market. And it's our job to stay on top of them and help each other maximise our success… We would love to have you involved and skyrocketing your results with us! If you are serious about your success, then get the rest of the details about my courses and Crypto Mastermind Group Access by watching the overview video and member testimonials. <<== CLICK HERE
Please use the social sharing options to share the #BlockchainRevolution with your network [the world].  It's our mission to wake up and help as many people as quickly as possible and make the world a better place!